About Mia
Mia B. Taylor, MS, PES, CES, CYI
Mia brings to her classes 17 years of personal yoga practice and study coupled with 15 years of teaching experience.  Raised on Maui and having returned in 2010 after 20 years in the Bay Area, Mia's motto is "the Science of Body, the Wisdom and Heart of Yoga."  This came about by blending her loves of two disciplines: a Master of Science degree in Human Movement and Kinesiology with Yogic Science and Philosophy.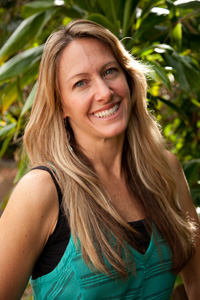 Mia attained Master Yoga Teacher status through Yoga Heart Meditative Movement in the Kriya Yoga tradition. In addition she became a Corrective Exercise Specialist and Performance Enhancement Specialist through the National Academy of Sports Medicine.  Through thoughtful themes, Mia weaves these disciplines together to create an experience of total inner and outer knowledge and soulful evolution; in essence discovering our potential in both the physical and non-physical planes and learning to live authentically in their coexistence.
Mia has worked with athletes, elderly, and every "body" in between giving her the knowledge of the aging body across the life-span.  The physical aspect of Mia's classes tends to favor improving range of motion in the major joints, superior core development incorporated with long holds which flow from pose to pose to build strength and muscular endurance.  A safe environment is key to progression and no two classes are the same. Mia's practices are often described as moving in slow-motion, which allows one to use the inner eye and tap into the ability to make refined internal choices. Mia's classes will leave you with a renewed sense of mobility in the body, and a limitlessness in the mind.